Advertise On Yebber
Yebber now has avenues for businesses to place advertisements on different spots in Yebber.com. This will allow your business to gain just the
right exposure
that you desire. With ten thousand page views per day to Yebber.com, you can easily reach out to both members and visitors and drive more traffic to your business.
Starting from September 1 2007, Yebber has designed several marketing features that would allow businesses to make the best use of the increasing consumer traffic at our website. These would include sponsored links, banners, electronic newletters and search keywords. The following provides a brief snapshot of how the advertisements will be placed on Yebber.com.
Advertisement Placement and Marketing Features
Featured Results
Prominence at its best! Be listed right above all other businesses with Yebber.com's featured results. In this way your business will be clearly seen by all visitors the moment they enter the main or sub category pages.
Featured results will help to generate more click through to your site reviews and allow visitors to find out first hand your customer's experience.
Do email us and tell us what you need!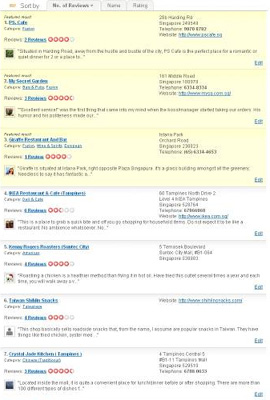 Banners
Banners (1), (2), (5) function the same way as traditional advertisements - to notify consumers of the product, service or promotion. Banners are designed to attract attention and create brand awareness. Yebber.com banners can be placed in different designated spots within the website and can be clearly seen by visitors. Since there can only be a limited number of banners, premium spots are always made available on a first come first serve basis.


Sponsored Listings
Sponsored Listings (3) appear on Yebber's home page, ensuring good exposure. These listings are also of a lower cost which is great for advertisers with a smaller budget.
Do email us and tell us what you require!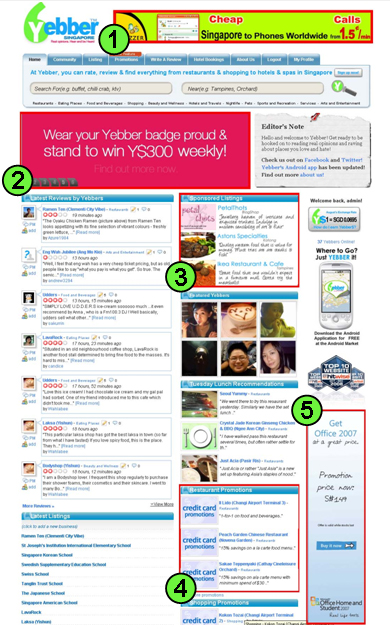 Yebber Promotions & Yebber$ Exchange
You want more than brand awareness - you want to increase the probability of people visiting your business. It's simple. Extend them a discount through us. It's fuss-free, value for money and we have packages available catered to almost any budgets. Learn more about Yebber Promotions & Yebber$ Exchange or email us to learn more about our customizable packages!


Featured Event
Of course, you can submit your event to us completely free of charge via our Events Page. But if you want more exposure, what better what to do it than to get your event featured at a very affordable price?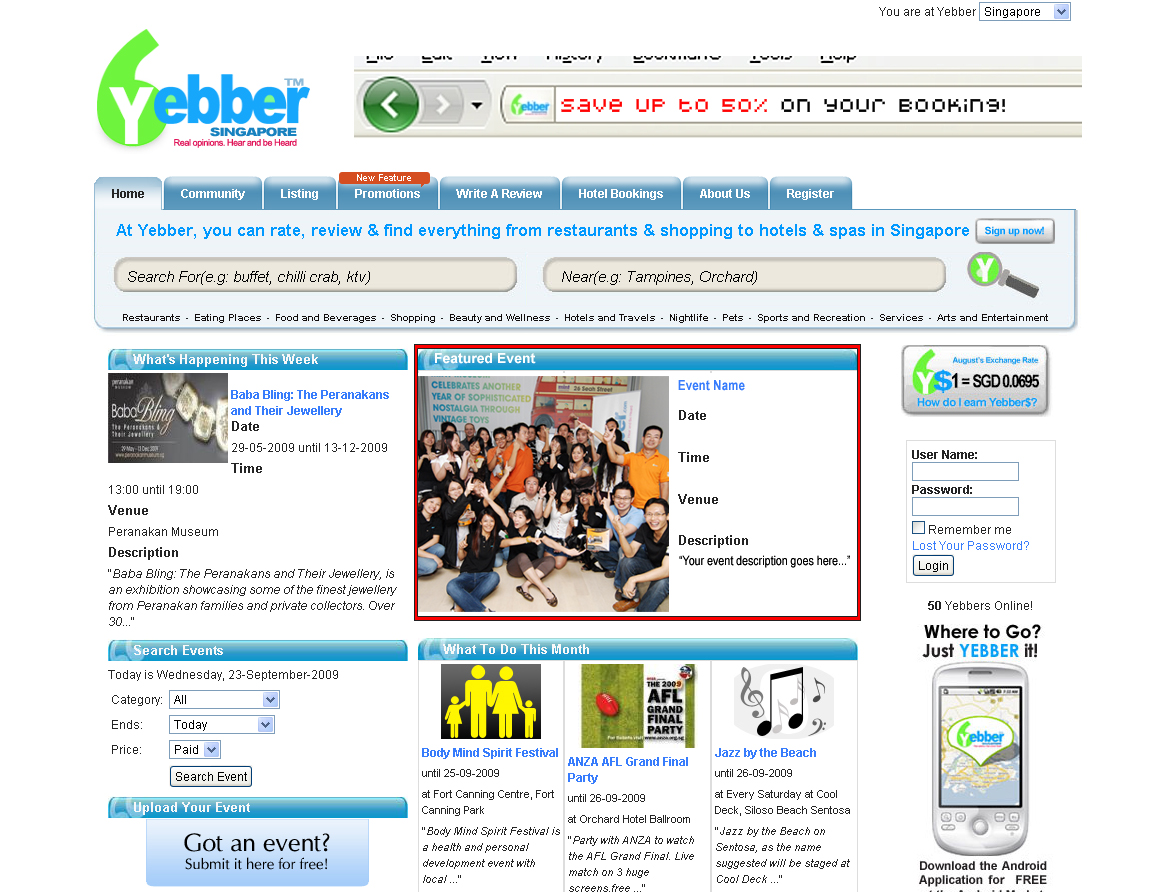 Search Keys
Search keys allows you to define specific keywords or phrases related to your business, products or services. In this way, your business can be found quickly and will be displayed prominently at the top of the search results. You can select from a list of keywords or simply provide your very own. If your business is rapidly expanding, surely you want others to read your customers' reviews and experience!
Do email us with your keyword requirements. We will be able to customize a package for you!
Request for Quotation for Advertisement
Please fill up the form if you are interested to advertise on Yebber.com