Winner of our Bi-weekly $100 giveaway: Chin Ching Wei!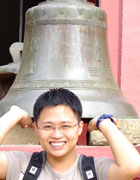 What do you like about Yebber?
It is an very independent panel of reviewers who share their unbiased views about the different eateries and services, and let others get to know more about these places.
What is your favourite topic to review?
My favourite topic would be definitely service, though food is a close fight. Because to me if the food is superb, but the service is bad, then I would consider twice before visiting the place again for my meals.
Why do you enjoy writing reviews?
I just like to share my experiences with people so that they can check out the nice places and avoid the not-so-good ones.
How will you spend your $100 prize money?
Well guess I would treat myself and my girlfriend to a nice meal and write more reviews!
What would you like people to know about Yebber?
That it is a fun website whereby you make friends and get to hang out together to enjoy good food and services.
---
What are you waiting for? You can be like Chin Ching Wei too. Start writing reviews of your favourite places, and WIN!